A woman who wanted to find out if her boyfriend had cheated has gone viral after going to extreme lengths to reveal the truth.
The woman, Lois Saunders, shared her highly entertaining endeavor in a TikTok video, which has now been viewed and liked by hundreds of thousands of people.
After he denied ever having another girl in his room, the 23-year-old decided to send a code she found on the tampon to Tampax so she could find out exactly when they were made.
The amateur sleuth emailed the company asking for more details so she could figure out the timeline of their relationship.
She said in her now-viral TikTok video:
"Just found a tampon and mascara under my boyfriend's wardrobe and he's denying there was a girl here."

"I'm not even joking it's right there. There's not enough dust on it to be old."

"I guess I have to take things into my own hands."

The video shows her email to the company explaining how she found a regular-sized tampon with a yellow wrapper.

"I have a tampon with a code on the side. Can this tell me when it was manufactured? I found it in my boyfriend's [room] so I'm doing some investigation," she wrote.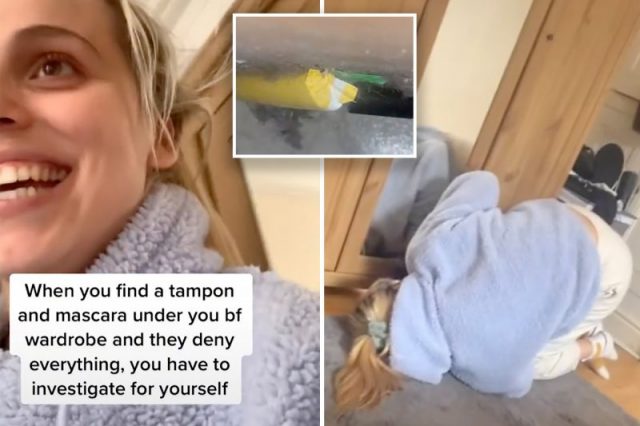 Much to her surprise, a member from the brand's customer service team responded weeks later confirming the tampon in question was manufactured on December 11, 2019.
The date indicated that the tampon was made before her boyfriend moved in.
She explained that at the time she discovered the tampon, she and her partner were not officially together but were dating.
Lois added that this was also the first time she had been at her boyfriend's house and in his room.
Once Tampax got back to her, Lois' partner explained that it could have belonged to the girl who lived in the room before him, as it was a University house.
She admitted that the whole thing was "a bit of a joke" and that the story actually has a very happy ending – Lois and her boyfriend are still together to this day.
Her video has since been viewed more than 4.3 million times with many applauding her for going through the effort to find out the truth behind the tampon.
"I'm not sure if this is genius or borderline psycho," one woman joked, while another added: "This is amazing."
While some people suggested it was a "red flag" and she should "trust her boyfriend", many defended her.
"So funny how it's all men pointing out she's a red flag, when women just get it," one wrote.

Another said: "Why is everyone taking this so seriously it's actually very very funny."

While one added: "How is it a red flag that you looked out for yourself and your feelings, imagine if it wasn't from 2019."