A TikTok video went viral over the weekend that shows a shoplifter locked out of her getaway vehicle. It is a satisfying scene seeing an entitled shoplifter woman receiving her instant karma just minutes after she made her crime.
A shoplifter in Hibbett's Sports at 2302 Troy Road in Edwardsville thought that she have gotten hundreds of dollars in retail without knowing that someone had captured a video of her after being chased by the cops.
According to reports, there were three suspicious women inside the store, and the trio sprinted from Hibbett's to a getaway car with clothes in their hands. Two of the women jumped into a gray Ford Fusion and left the scene. One of the women was locked out of the back seat of the Ford Fusion and gave up shortly after a brief chase and her two accomplices sped off without her.
Edwardsville Police Chief Michael Fillback said that "These individuals exited the building with basically a handful of clothes, each of them, and ran to a vehicle parked nearby; one of the individuals was unable to get in the vehicle. The video shows that."
The two accomplices must have hinted that the employees were on to their scheme, so they each headed out the door. But one of them named 19-year-old Dakayla Coleman won't leave empty-handed.
KMOV reports that Coleman fled the store with a pile of stolen goods draped over her shoulder, 24 pieces of clothing in total. Unfortunately for her, the accomplices she relied on for making a hasty getaway suddenly decided that she was too much of a liability.
The TikTok video shows how Coleman desperately tugged at the door handles of the getaway car only to discover she's been purposefully locked out. Panic sets in as she watches her only means of escape pull away, leaving her stranded with all of the stolen merchandise on her arm.
Watch it here: Youtube video
Just when Coleman thinks her situation couldn't get any worse, a police patrol vehicle pulls up. She ran after the car and then dropped the clothes she was carrying as officers chased after her. She gave up running after a short distance.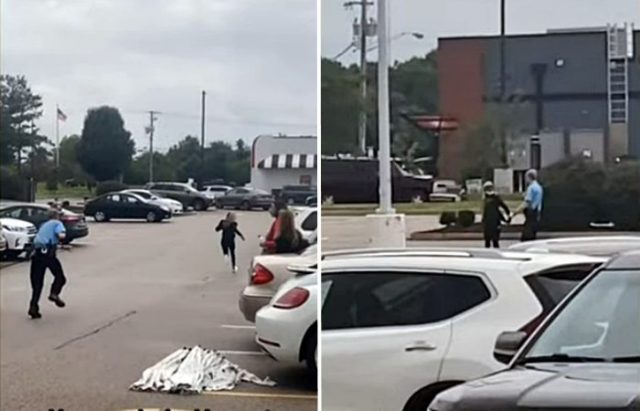 After expecting to steal items from the store, she ended being caught pursuing an officer. The next clip of the video shows the suspect being escorted across the parking lot in handcuffs, ending the satisfying saga. She was then taken into custody and charged with retail theft.
Police records show that Coleman already has an impressive rap sheet despite her young age. Aside from having two shoplifting warrants in Missouri, she has racked up charges of stealing, stealing in excess of $750 or more, and resisting arrest for a felony.
The said video uploaded by one of the bystanders has gotten millions of views on TikTok.
Sources: Taphaps, River Bender, FOX 2