These vegan animal activists have been disturbing a peaceful Toronto restaurant owner's business for weeks of protest just outside his store. Then he finally came up with a brilliant idea for revenge – and they recorded their own horrified reaction.
The protesters were holding signs emblazoned with slogans such as 'Murder' and 'Animals are not ours to use' outside Michael Hunter's restaurant, Antler Kitchen and Bar, which specializes in "local seasonal and wild foods" including boar, duck, and deer.
But one of the co-owner Michael Hunter turned the tables on them when he whipped out a deer leg and started butchering it on a table in full view of the vegan protesters.
Hunter is Fed-up with the seemingly endless protests of the animal rights activists outside his restaurant, Hunter decided to let them know exactly what he thought about their complaints.
Michael Hunter, who is also a chef, "brought out an entire animal leg and started cutting it upright in the window on a table reserved for diners," according to the protesters.
According to one of the protest organizers, who opined that he was taunting them with his carnivorous ostentatiousness, "Once the deer was cooked, Michael Hunter, owner of Antler, sat back down at the window to eat the dead deer."
Watch it here: MagnoliMagnolia/Youtube
In a longer video, according to BlogTO, police can be seen speaking to Hunter, but they walk away with smiles, apparently finding the situation humorous, and not criminal.
"I'm not sure if the police were telling the owner to stop for trying to anger the protesters, or for ethical or health & safety violations," said animal activist Len Goldberg. "I just think this is very disturbing."
Watch it here: WhatsTrending/Youtube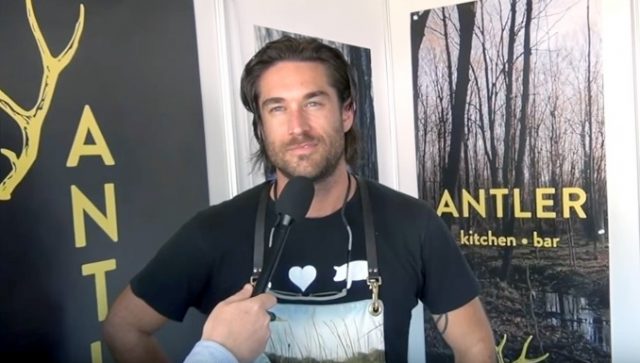 Hunter reacted to the protest, writing:
"our identity as a restaurant is well known throughout the city as is our ethical farming and foraging initiatives."

"While we would much rather not be the focus of these protests, we are not at all surprised," he added. "We simply want to carry on running a restaurant and have a peaceful environment where our guests can enjoy their food."