The audience gets to participate in something called the "Flex Cam" during the Philadelphia Soul football games. Camera pan through the bleachers looking for fans to flex their muscles.
And one cocky guy was proudly flexing away until the girl behind him took off her jacket…. As the announcer said, "You've been stoned, my brother!"
The guy was left mortified as he was humiliated on video.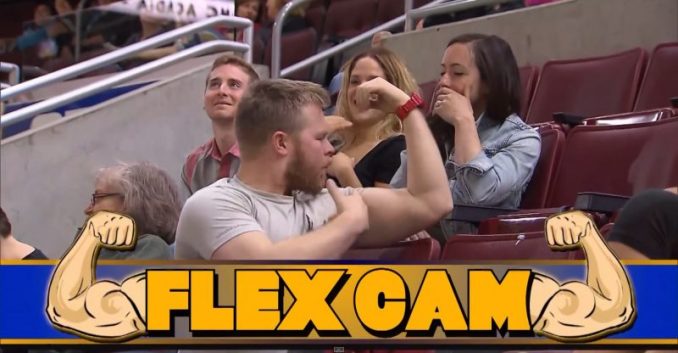 Video of a jacked Philadelphia woman is going viral after she publicly shamed a man showing his pythons to the "Flex Cam" at an Arena Football League game.
In a recorded video, we can see the man began flexing the second his mug appeared on camera, thoroughly enjoying the spotlight.
Meanwhile, the woman can be seen seated and wearing a denim jacket and laughing when a man in front of her shows his chicken cutlet of a muscle.
The man thought that the moment was his to own until a woman sitting behind him casually removed her jacket and baptized the masses with sweet, biceptual healing.
She leaned down, gave him a good look at the triceratops, and he did the only thing an out-gunned man can do: cover his face and pray for a random bolt of lightning to take him from this world.
The excited announcer yelled as he watched the woman whipping the jacket off, saying:
"Whoa, whoa, whoa, what is this?"

"Oh my goodness!!" he shouted as her biceps bulged.

"Holy Moly!! You been stoned, my brother!" he added as he laughed at the tough guy's embarrassing misfortune who turned around to see that the woman's muscles were bigger and better than his.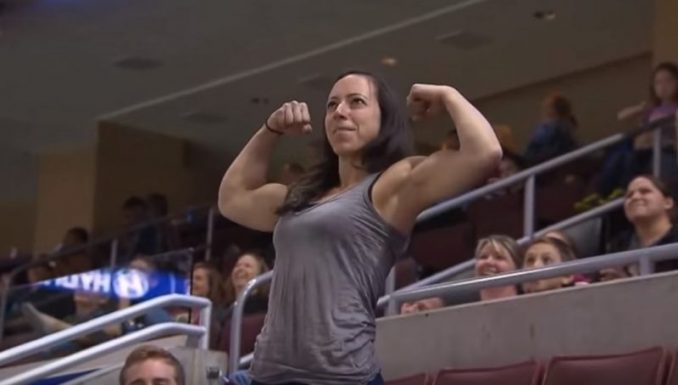 The man looked up at her stunned before turning around and taking his seat with a look of defeat on his face as he leaned his chin on his hand.
He knew he had been out-gunned, but the bountiful bicep beauty wasn't done. She playfully leaned over him and flexed, celebrating her victorious moment and making sure he was well aware he had been beaten at his own game.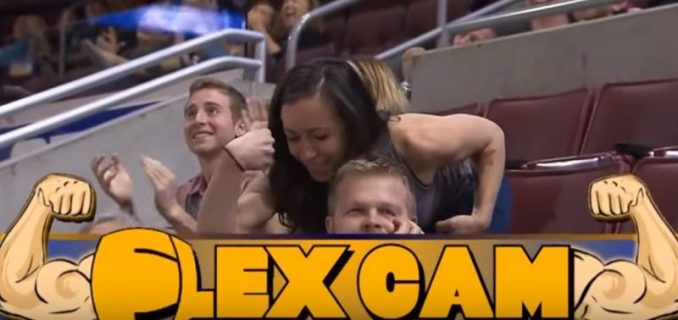 According to an NBC report:
The man in the video is Micah Macbeth, a strength and conditioning coach. The woman showing off her muscles is his fiancee Anne Marie Aponte.

As it turns out, the moment was staged. But, Macbeth is adamant that his reaction was genuine. "That wasn't an act," he said. "I've never seen her flex before, and when I saw her do it, I was very impressed."
Watch it here: Philadephia/Youtube