Apparently, it appears that we have to wait for the British to do it because the American mainstream media is so corrupted that they will never expose the Biden-Harris regime's corruption.  However, it is now confirmed that at Hunter's request, then-Vice-President Joe Biden entertained business associates of Hunter's at One Observatory Circle, the Vice President's official residence, including prominent Mexican billionaires Carlos Slim and Miguel Alemán Velasco. Its blatant influence peddling and a case of Quid Pro Quo, according to a devastating report based on the information recovered from Hunter Biden's abandoned laptop.
From the Daily Mail reports:
"The then-vice president also flew Hunter and his partner Jeff Cooper on Air Force 2 to Mexico City in 2016 where Hunter arranged to meet Alemán's son for meetings over a 'flippin gigantic' business deal.

The revelations laid bare in photographs and emails on Hunter's abandoned laptop, are the latest in a growing body of evidence calling into question the president's claim that he never spoke about business with Hunter."
The Biden-Harris administration has not responded to numerous demands for comment, according to the British daily. However, the images uncovered speak for themselves:
"Sure- if there's time on his calendar and he's back in DC," an unnamed party wrote in an email to Joe Biden's brother (and most believe his gatekeeper), Robert Biden. "On December 10th, they're both invited to NavObs' holiday party. It would, however, be a wonderful gesture. I'll check with the Vice President's office to see when he returns from his trip."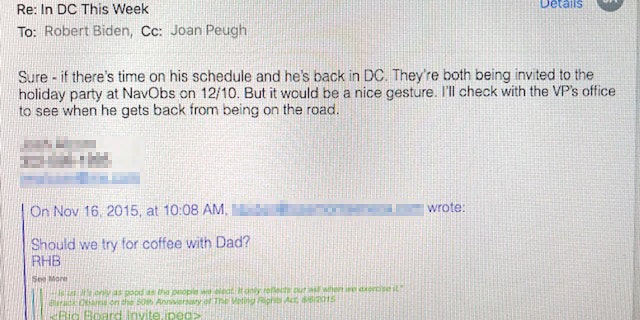 The New York Post reported:
Hunter Biden's diary at the Vice President's official residence at the Naval Observatory, or "NavObs," contained over a hundred events, many of which overlapped with Hunter's commercial interests. They compose, "Breakfast with Dad — NavObs" is one such meeting recorded for 8:30 a.m. on Nov. 19, 2015. Five photographs date-stamped on that day and taken at 10:03 a.m. and 10:04 a.m. appear on the laptop, showing Joe posing with four of Hunter's business associates, including Mexican billionaires Carlos Slim and Miguel Alemán Velasco.

One photo also features Velasco's son Miguel Aleman Magnani, the founder of budget airline Interjet, at whose Acapulco mansion Hunter and wife Kathleen had stayed that March. Jeff Cooper, a longtime Biden family benefactor, who ran one of the largest asbestos litigation firms in the country, Illinois-based SimmonsCooper, also appears along with Hunter."
On energy, Mr. Cooper has been working deals in Mexico and Central America with Hunter Biden. The significant Mexican businesses were intimately involved in negotiations with the Bidens, according to an email sent on February 26th, 2013. The communication "demonstrates their high hopes of the partnership with the Aleman dynasty," according to the Post.
"Miguel wants us to go to Mexico City, This is setting up to be flippin gigantic brother."
Mr. Cooper appointed Hunter a board member of his venture capital firm "Eudora Global" in 2015, after Joe Biden became Vice President and gave him a nice $80k per year salary with shares as a bonus, plus a $300,000 "one-time payment.
Hunter sent an email using Air Force 2's secure satellite communications system while en route to Mexico City on February 24, 2016, implying that the relationship had soured. He penned, "We are arriving late tonight on Air Force 2 to Mx City. I'm attending a meeting w/ President N [Peña Nieto] and dad. Would love to see you but you never respond. I am really upset by it . . . I want you at the plane when the VP lands with your Mom and Dad and you completely ignore me.
"I've looked at what your family has done and want to follow in that tradition . . . We have been talking about business deals for 7 years. And I really appreciate you letting me stay at your resort villa . . . but
I have brought every single person you have ever asked me to bring to the F'ing White House and the Vice President's house and the inauguration and then you go completely silent . . .
You make me feel like I've done something to offend you."
Hunter was reportedly pressuring Miguel to "smooth out" a visa issue for Burisma's owner Nikolai Zlochevskyi, but Miguel didn't come through. There were even some tie-ins with the Ukrainian controversy, which has Joe Biden currently under indictment in Kiev, and Burisma holdings.
"Going to have to do some serious backpedaling with Burisma," Hunter emailed Cooper on Feb. 16, 2015. "Most likely jeopardizes my board position."
"I am shocked Miguel didn't come through at crunch time," replied Cooper. ". . . they clearly value the relationship with your family AND they know they could sustain serious damage here by making enemies with you . . . Maybe a call from you or your dad to his dad? Maybe that shakes things loose. Whaddya think?"
Hunter and Robert Biden were trading the influence of then-Vice President Joe Biden and the Obama WhiteHouse in return for money and positions of authority for Hunter, the money from which certainly ended up in the hands of other members of the Biden family, according to the emails and images.
Sources: TheGOPTimes, TheSun, NYpost (1), NYpost (2), DailyMail